Telephone: 020 8891 0073
acorngrouppractice@nhs.net
Latest News (click title to open):
COVID Vaccine
COVID VACCINATION CERTIFICATE
From 17 May 2021, people in England who have been fully vaccinated against COVID-19 can demonstrate their vaccination status for international travel. A full course is currently two doses of any approved vaccine. Vaccine status will be available from:
It may take more than a week for your identity to be checked and verified so you can use this service.
If you cannot access the online services, and you have had 2 vaccines, you can request a paper letter from the NHS by calling 119. Only call 119 if you are due to travel abroad in the near future and have had your second dose more than 5 working days ago. It may take 7 working days for the letter to arrive.
This practice is not able to provide you with a letter that shows your COVID-19 vaccination status.
When you're planning your travel, check the latest information on demonstrating your COVID-19 status when travelling abroad on the gov.uk website. Make sure there is time to get  proof of your vaccination status before you leave.
We are unable to issue this certificate at the practice.
In order to register for the NHS App, please contact the Surgery to firstly sign up for Patient Access (surgery on line platform).
Please see https://www.gov.uk/guidance/demonstrating-your-covid-19-vaccination-status-when-travelling-abroad for further information.
Proof of your vaccination status will be available on the NHSapp, which is also valuable for accessing your health records and ordering repeat prescriptions.
The NHSapp can be downloaded from https://apps.apple.com/gb/app/nhs-app/id1388411277 for iPhone or https://play.google.com/store/apps/details?id=com.nhs.online.nhsonline for android.
Alternatively you can call the NHS helpline on 119 (from 17 May) and ask for a letter to be posted to you. This must be at least 5 days after you've completed your course of the vaccine, the letter may take up to 5 days to reach you.
Due to recent changes in guidelines with reference to the AstraZeneca vaccine, please see the latest update and advice:
The Joint Committee on Vaccination and Immunisation (JCVI) has issued advice to the UK government on the use of the coronavirus (COVID-19) Oxford/AstraZeneca vaccine for people aged under 40.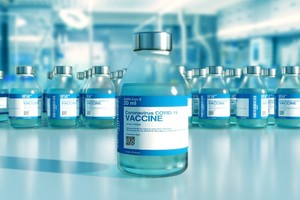 The committee has reviewed the latest available evidence, including the current COVID-19 infection rate, the scale and pace of the vaccine programme and modelling of the timing and size of any third pandemic wave.
This has been considered alongside the latest advice from the Medicines and Healthcare products Regulatory Agency (MHRA) on extremely rare cases of concurrent thrombosis (blood clots) and thrombocytopenia (low platelet count) following the first dose of the Oxford/AstraZeneca vaccine.
The chances of a younger person becoming seriously ill with COVID-19 get smaller as infection rates increasingly come under control in the UK.
Considering this alongside the portfolio of vaccines available in the UK in the coming months and taking a precautionary approach in relation to the extremely small risk of thrombosis and thrombocytopenia following the first dose of the Oxford/AstraZeneca vaccine, the JCVI has advised a preference for adults aged 30 to 39 without underlying health conditions to receive an alternative to the Oxford/AstraZeneca vaccine – where available and only if this does not cause substantial delays in being vaccinated.
This follows the decision on 7 April to offer a preference for adults aged under 30.
The COVID-19 vaccines are highly effective and have been shown to substantially reduce the risk of death, severe disease and transmission of infection.
Over 34 million people have received a first dose so far. The vaccine programme is estimated to have prevented over 10,000 deaths by the end of March.
Adverse events following the Oxford/AstraZeneca vaccine are extremely rare and, for the vast majority of people, the benefits of preventing serious illness and death far outweigh any risks.
Up to 28 April 2021, the MHRA had received 242 reports of blood clotting cases in people who also had low levels of platelets in the UK, following the use of Oxford/AstraZeneca vaccine. These numbers are very small compared to the millions of people who have received the vaccine. The overall incidence of case reports of thromboembolic events with low platelets after first or unknown doses was 10.5 per million doses.
The majority of these extremely rare events occurred after the first dose.
Everybody who has already had a first dose of the Oxford/AstraZeneca vaccine should receive a second dose of the same jab, irrespective of age, except for the very small number of people who experienced blood clots with low platelet counts from their first vaccination.
Getting the second vaccine dose is very important because it further increases the level of protection against COVID-19.
Professor Wei Shen Lim, COVID-19 Chair for JCVI, said:
Safety remains our number one priority. We have continued to assess the benefit-risk balance of COVID-19 vaccines in light of UK infection rates and the latest information from the MHRA on the extremely rare event of blood clots and low platelet counts following vaccination.

As COVID-19 rates continue to come under control, we are advising that adults aged 18 to 39 years with no underlying health conditions are offered an alternative to the Oxford/AstraZeneca vaccine, if available and if it does not cause delays in having the vaccine. The advice is specific to circumstances in the UK at this time and maximises use of the wide portfolio of vaccines available.

The COVID-19 vaccines have already saved thousands of lives and the benefit for the majority of the population is clear – if you are offered the vaccine, you should take it.
In an Emergency
· Although very rare, if you experience a severe headache, unexplained bruising, shortness of breath, chest pain, leg swelling or persistent abdominal pain 4 days to 4 weeks after vaccination, seek medical advice urgently.
The coronavirus (COVID-19) vaccine is safe and effective. It will give you the best protection against coronavirus but we must continue
with hands, face, space in the meantime…………..
The NHS will let you know when it's your turn to have the vaccine. Please do not contact your practices or the NHS for a vaccination before then.
In line with Government guidelines, the roll out of the vaccine may impact on some primary care services but your Practice will still be operating for necessary healthcare.
WE ARE CONTINUING THE VACCINE ROLL OUT IN ACCORDANCE WITH GOVERNMENT AND NHSE DIRECTIVES.
ALL VACCINATIONS ARE BY APPOINTMENT ONLY. YOU WILL BE CONTACTED DIRECTLY BY YOUR SURGERY WHEN IT IS YOUR TURN FOR A VACCINE. PLEASE DO NOT CALL THE SURGERY TO ASK FOR AN APPOINTMENT.
WE ASK YOU ALL TO BE VIGILANT………………
COVID-19 Vaccination scams what you need to know……………..
We are aware that some people are receiving suspicious calls and text messages offering the COVID-19 vaccination.
To protect yourself and your family members from fraud and criminals, remember the following points.
The vaccine is only available from the NHS and is being offered to people in priority groups. Vaccination is free and the NHS will contact you when it is your turn. You can be contacted by the NHS, your employer, or a GP surgery local to you, to receive your vaccine. Anyone offering a paid-for vaccine is committing a crime.
The NHS will never:
. Ask you to press a button on your keypad or send a text to confirm you want the vaccine.
. Never ask for payment or for your bank account or card details, to pay for a vaccine or to confirm your eligibility for the vaccine.
. Ask you for your PIN or banking password.
. Arrive unannounced at your home to administer the vaccine. – At the moment we are also not making house calls to deliver or discuss the vaccine.
. Ask you to prove your identity by sending copies of personal documents such as your passport, driving licence, bills, bank account details or pay slips
If you receive a call you believe to be fraudulent, hang up. If you believe you have been the victim of fraud or identity theft you should report this directly to Action Fraud on 0300 123 2040. Where the victim is vulnerable, and particularly if you are worried that someone has or might come to your house, report it to the Police online or by calling 101.